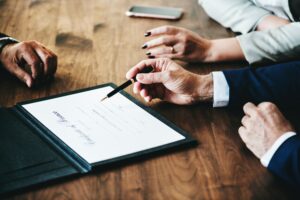 A Power of Attorney is a binding legal document that must be witnessed and notarized to become valid and enforceable. This important and essential document allows you to appoint another person to act on your behalf. In essence, the appointed person steps into your shoes and allows them to perform any act provided for within the document. For example, if you are selling your house but unable to attend the closing, you can give someone the power to attend the settlement and sign any and all necessary closing documents, including the deed. Your attorney may prepare a Power of Attorney that restricts and limits or is expansive and broad in nature.
If I give someone a Power of Attorney, does that mean I don't have control over my money anymore?
No. When you give someone a Power of Attorney, you still have the right to control your money and property. However, you are giving your agent the ability to access your money. Your agent is not supposed to take or use your money without your permission, but there is a risk that a dishonest or unscrupulous agent may steal your money. Therefore, it is very important to choose an agent you trust. You should also always go over the agent's duties before you sign your power of attorney.
If I think someone is using my Power of Attorney to steal from me, what can I do?
First, you should revoke the Power of Attorney. A revocation is also a legal document that must be witnessed and notarized. Second, contact all your banks or other financial institutions and inform them that you have revoked the Power of Attorney.
What is a Maryland Statutory Power of Attorney?
In the old days, banks required people to use the bank's own power of attorney forms and the forms differed from bank to bank. As a result, the Maryland legislature adopted and passed the Maryland General and Limited Power of Attorney Act in 2010 and created a specific kind of power of attorney called a "statutory form power of attorney." There are several templates provided in the following links: Md. Code, Estates & Trusts §§ 17-101, 17-202, 17-203, and 17-204. If a bank, financial institution, or other party refuses to honor a Maryland Statutory Power of Attorney, that party may be held liable for the attorney's fees incurred to get a court order that requires them to abide by the power of attorney.